INTOPS Adventure in Zambia
INTOPS is a North West England initiative allowing members of Girlguiding to travel overseas taking part in a variety of projects. Claire Lepine Assistant County Commissioner for Girlguiding Stockport travelled to Zambia to volunteer with The Book Bus.
Wow! What an amazing adventure I had in Zambia. I had a fabulous two weeks leading a group of ten girls from across the North West, we worked with the Book Bus in three different schools and a Community Library.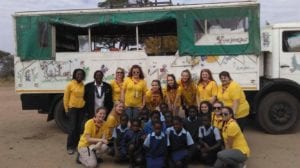 We read books, played games and sang songs. The children that we worked with truly amazing and although they have very little in terms of possessions and money they have an infinite amount of love and enthusiasm, they all made us feel so welcome and we we really felt like we helped them to improve their English. While we were there we were also lucky enough to go on a Game Drive and visit Victoria Falls! Truly a trip of a lifetime 😀